Archos Device Profiles
Convert videos to most of the popular Archos portable media players. Archos Generation 5 models: 105, 405, 605, 705; Archos AV500, AV700 and more.
Configure Archos Device Properties
Archos Devices allow you to play your video and audio files. Predefined profile settings have been created for each Archos model.
To select media conversion properties for your Archos model, click Formats >> Select Device Profiles >> Archos >> ( Select desired device profile ).
This is an example of an Archos 405 and 605 wifi device profile.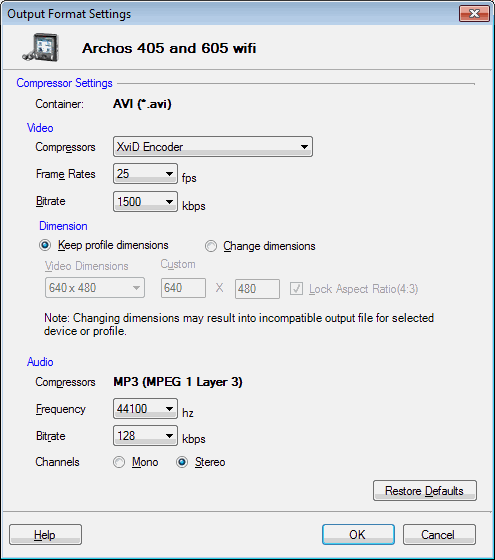 The files encoded with XviD Encoder are compatible with almost all the players. You can change it to MPEG-4 from the drop-down menu. The Frame Rate is set at 25 Fps and the Bitrate is 1500 Kbps. You have the option to retain the dimensions or change it.
When compressed with MP3, the media files play on almost all portable audio players. The frequency is set to 44100 Hz and bitrate is 128 Kbps. The Stereo audio channel creates an impression of sound heard from various directions.