Creative Zen Device Profiles
Convert your media files to Creative Labs' Zen and ZiiO portable multimedia players and MuVo audio player: ZiiO 10, ZiiO 7, Zen-X-Fi, Zen-X-Fi2, Creative Vision, Zen or MuVo audio.
Configure Creative Zen Device Properties
Predefined profile settings have been created for each Creative device.
To select media conversion properties for your Creative device, click Formats >> Select Device Profiles >> Creative >> ( Select desired device profile ).
You have two options when converting video for Creative Zen players, AVI Video for Zen and WMV video for Zen. Generally, the WMV profile creates smaller files with equally good quality and is preferred.
This is an example of a WMV Video for Zen video device profile.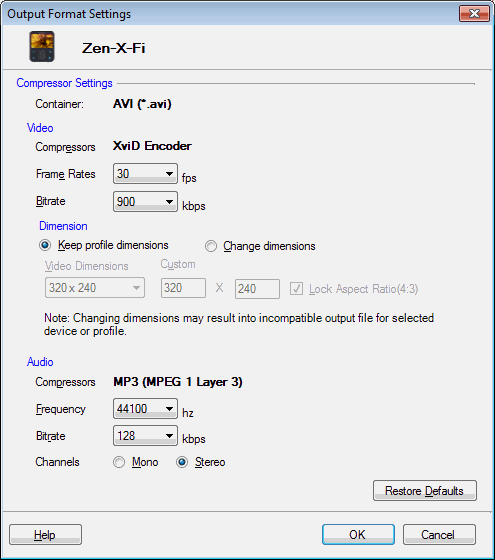 The Windows Media Video 9 compressor offers a near-DVD-quality video at low bitrates. The Frame Rate is set at 29.97 Fps and Bitrate is 544 Kbps.
The files produced with Windows Media Audio 9.2 compressor are compatible with almost all playback devices. The frequency is set at 44100 Hz and bitrate is 128 Kbps. The Stereo audio channel creates an impression of sound heard from various directions.