Descripción de la interfaz de usuario
La interfaz de aplicación es fácil de usar y proporciona un acceso rápido a todas las funciones importantes.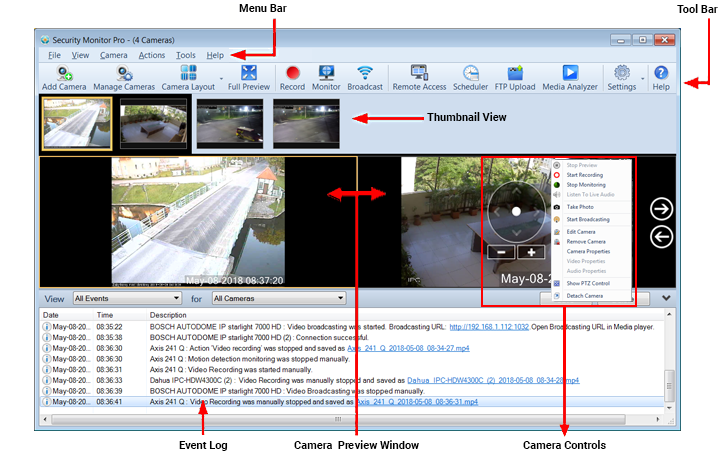 Todas las funciones de aplicación de Security Monitor Pro se pueden acceder desde Barra de menús.
los Barra de herramientas Muestra las funciones más utilizadas.
Se muestra una pequeña previsualización en vivo de cada cámara para un acceso rápido.
Cada cámara se agrega en una ventana de vista previa separada. Puede seleccionar una cámara haciendo clic en esta ventana de vista previa. La cámara seleccionada se muestra con un borde naranja alrededor de la ventana de vista previa. Para cambiar el número de cámaras que se muestran, haga clic en Ver >> Disposición de la cámara.
You can access and control the camera previews using PTZ, Menú de contexto. When you right click on the camera window, a context menu appears. Adjust the view of your camera using PTZ control. Single clicking on a camera preview window will show or hide the PTZ control.
Registro de eventos
los Registro de eventos records all significant events for each camera such as monitoring actions, recording, broadcasting, FTP upload etc. It allows you to view the actions that occur for each camera in a chronological order. You can save the Event log for a specific camera or all cameras added in Security Monitor Pro. They can serve as records for legal purposes.
When you save the log, the Fecha y hora Se especifica como el nombre de archivo.